WebStreaming - and live video production
"I can help to guide you along the learning curve" - writes Martin Kay

Working out what you need in order to set up for live video production can be quite a daunting task, not to mention the operational techniques that will be required to use it. What I mean by "live video production" is any sort of live transmission (typically over the internet these days), or video recording, that comprises more than a single source. In other words, anything that goes beyond recording direct onto a camera, or transmitting the direct output of a single camera. The "live" element is the switching and combining of multiple feeds, either from cameras, pre-recorded video playback, text-based captions, graphics & computer output and other remote feeds. At one time this would have required a fully-manned purpose-built TV studio or Outside Broadcast unit, but these days the entry-level hardware requirements are far more modest, and a surprising amount can be achieved by a single operator.

Finding the balance between hardware and software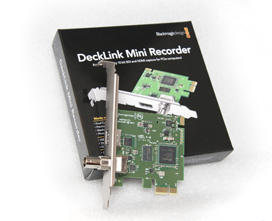 Hardware will usually only do what it does when you buy it, so the argument goes, but software is far more more versatile and can be continually updated to provide improved features. Computers have changed the face of broadcasting in so many ways, and the benefits have certainly filtered down to all levels of video production, giving lower-budget users functionality that was once the exclusive domain of the TV networks. But it would be a mistake to think that computers are the answer to everything production-related, and that it's just a matter of finding the right app. Handling multiple streams of video in real-time, particularly at HD resolutions and frame rates, is not something you should expect to do on every laptop (yet), for example, and is one reason why there is still a place for some dedicated hardware. Off-loading the tasks which require the most "brute-force" to external hardware will leave the computer with more resources to do the things it's good at, one of which is providing a highly customisable work surface from which to control everything. But that in itself is another reason why there's still a place for hardware. There's only so much that can be done with one pair of hands using a keyboard and a mouse, or even a touch-screen. And not every task lends itself to these sorts of controls.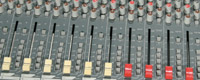 Live audio mixing is a prime example of something for which hardware still offers a very effective solution. A row of sliding faders offers a tactile multi-finger user interface which is hard to beat at a practical level. Also, audio equipment generally is now at a fairly mature stage in it's development, with the possible exception of radio transceiver units, and any investment in things like good quality microphones, headphones and mixers is unlikely result in the same sort of rapid obsolescence as experienced with other electronic items like computers, phones, TVs and cameras. As such, buying used equipment is a perfectly viable option, and most of my personal professional audio kit was either bought new 20+ years ago, or has been bought as used items (mainly from ebay) more recently.

VidBlaster and vMix - a video production control room in software
VidBlaster & vMix add-ons
Note - all prices quoted on this site are UK pounds - ex VAT & delivery - 2.5% surcharge on VISA/MasterCard payments
Magewell Video Capture Products

Prices here
Full range of Magewell video capture & conversion products available.

Lead time for non stock items is typically 3-4 days.

Please enquire for quantity discounts
| | |
| --- | --- |
| Other Video Capture cards, Converters and other related products | Price |
| AverMedia C127 Single channel PCIe capture card with HDMI & VGA inputs | 80.00 |
| Startech PEXHDCAP Versatile single channel PCIe card with HDMI, DVI, VGA & analogue inputs | 106.00 |
| Startech USB2 single channel video capture adaptor | 30.00 |
| Startech USB2 single channel video/audio capture adaptor | 40.00 |
| BlackMagic Decklink PCIe Mini Recorder (input) or Mini Monitor (output) with HDMI+SDI | |
| VS-626 HDMI up/down SD/HD scaler & frame-rate converter 50/60Hz | |
| Matrox Monarch - H264 streaming/recording appliance, HDMI i/p | |
| Teradeck VidiU - Consumer camera-top HDMI H264 Encoder | |
| BirdDog Studio NDI Encoder - send HDMI/SDI video over a LAN | |
| Video Switching & Streaming software | |
| VidBlaster Home/Pro/Studio/Broadcast software editions for PC | prices here |
| vMix SD / HD / 4K / Pro switching/streaming/recording software for PC | prices here |
| Wirecast Studio v7 software - PC or Mac | 365.00 |
| Wirecast Pro v7 software - PC or Mac (upgrades available - POA) | 730.00 |
| Wirecast Gear - complete turnkey systems (using Magewell input cards) | |
| Wirecast Gear 100 – 4 HDMI, 250GB SSD video storage, NewBlueFX Titler Live Standard | 3,895.00 |
| Wirecast Gear 200 – 4 SDI, 500GB SSD video storage, NewBlueFX Titler Live Advance (w/NDI) | 4,750.00 |
| Wirecast Gear 220 – 4 SDI, 2TB SSD video storage, NewBlueFX Titler Live Ultimate | 5,500.00 |
Magewell USB3 Video Capture Dongle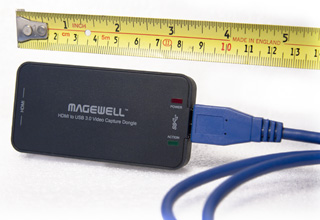 This versatile pocket-sized USB3 video & audio capture device for Windows will accept a wide range of graphics card output sizes via its full-size HDMI input connection, as well as regular broadcast video resolutions, either SD or HD, interlaced or progressive, with embedded 48KHz stereo audio. It will auto-detect the incoming video resolution and can scale it externally to a range of common resolutions, from 640x360 to 1920x1200, at frame rates up to 60p.
An SDI/HD-SDI version is also available for capturing broadcast video resolutions with embedded stereo audio.

It requires no drivers to be installed, as it emulates a standard webcam and uses the default Microsoft drivers (included in Vista, Windows 7 & 8), making it suitable for use with any streaming or capture software designed to allow a webcam for input (via DirectShow). This includes applications like Adobe's Flash Media Live Encoder, Skype, Google+ Hangouts,

Wirecast, VidBlaster, VMix, XSplit, etc. Embedded audio is supported, such that the unit appears in the standard list of Windows audio Recording devices (as pictured right).
The HDMI capture dongle has been tested with a range of USB3 host chipsets, including Intel, NEC/Renesas , Asmedia - although we can't guarantee every permutation of chipsets and drivers (but it seems far less fussy than the BM Intensity Shuttle!). The Magewell spec indicates support for Linux (kernel version 2.6.38 and above), OS X (10.8 and above), but we have no facilities to test under those O/Ss.

Whilst it requires a USB3 connection to deliver the bandwidth needed for HD video at full frame rate, it will work over a USB2 connection with a couple of caveats, which are either, (1) Reduced frame rate, which can still provide a viable solution for inputting something like a Powerpoint presentation in HD resolution where the images are mainly static, so a reduced frame rate is acceptable, or (2) Reduced image size being fed to the application, being scaled externally in the device before being sent over the USB2 link. This can allow the use of HDMI feeds from HD cameras in webcasts with lower pixel resolutions. For example, a full HD 1920x1080 camera feed can be connected to the dongle but, by selecting 640x360 in the software application, only a 640x360 image is sent over the USB2 link, but at full frame rate.

No software is supplied with the item - just a suitable USB3 cable (for use with standard USB3 or USB2 host sockets on the computer). See Magewell prices above and watch the video below (or go to http://youtu.be/_OT0GoALSLM ).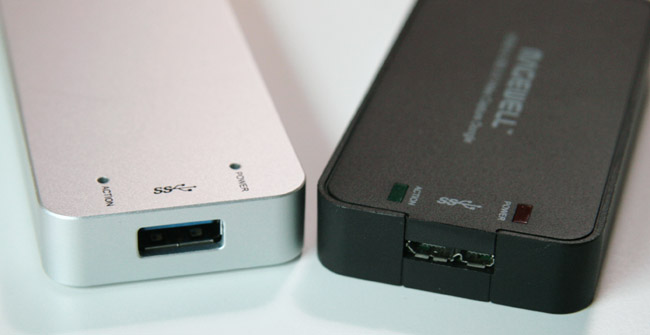 Dongles now feature a robust metal case with a larger USB3 connector than the original plastic-cased version
Live web streaming support services for small-scale events and webinars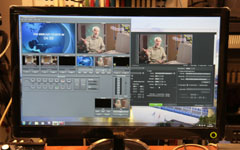 ZEN Computer Services can offer a back-end service to support live web streaming for smaller-scale events, product launches, training sessions, and suchlike. The service is aimed at video production companies and videographers with little or no prior experience of web streaming who have been asked to provide such a service as an add-on to existing video coverage.
At its simplest level, ZEN will provide the encoding equipment and operator, and provide quality-control monitoring of the stream during transmission.
The supporting services can be extended to include audio mixing and software vision mixing, allowing multiple cameras to be used, along with caption overlays and vision inserts from virtual VTRs. Whilst not intended as a replacement for a full OB, the system allows many of the same elements to be included in a live web broadcast, operated from a desktop PC, at a relatively modest cost.
Final details and rate card are still being worked on, but please phone or email if this is of interest