Note - all prices quoted on this site are UK pounds - ex VAT & delivery - no exports, UK delivery only
| | |
| --- | --- |
| The odds and ends page.... | Last updated: 25 March, 2013 |
...an assortment of audio, video & computer equipment, some used, some new, and all too good to throw away when someone might have a use for it.

Key -

NEW

AS-NEW

USED

BELONGS TO A CUSTOMER

Most items can be seen at our Manchester office (apart from.some Customer Items coded light blue)
Used Video Monitors for sale
| | | |
| --- | --- | --- |
| ITEM | DESCRIPTION | PRICE |
| | Sony 14" with composite, Y/C & YUV (2) inputs, under/overscan, 4:3 only | 100.00 |
| | Sony 14" with composite (2), Y/C & YUV inputs, underscan, modified to include 4:3/16:9 switch on rear | SOLD |
Computer-Video Stuff
ITEM
DESCRIPTION
PRICE

DV-Master

Fast DVMaster with Speed Razor v3.5 or 4.x edit s/w (for Windows NT4)

25.00

Blackmagic Video Recorder

USB2 device for recording H264 video files from analogue composite or YUV SD sources. Mac-only. Bought in error by a customer who thought it recorded HD and immediately returned it when he discovered his mistake.

89.00

Decklink HD

Used Blackmagic Decklink HD card. Requires 64bit PCI-X slot for HD, but for SD will work in a 32bit PCI slot. SDI/HDSDI in/out + S/PDIF out + RS422 9-pin VTR control
For use with Premiere Pro or Final Cut Pro
more from Blackmagic

90.00

Barely used Matrox MXO2 Mini with PCIe adaptor card, cable & drivers. For use with Premiere Pro CS4/5 & later Avid MC versions (not included)


SOLD

Leitch / DPS Reality

Used dpsReality card & Breakout cable. Includes Reality/Velocity software, Inscriber TitleMotion (dongle) and two 73GB SCSI drives. Will split.

open to offers
| | |
| --- | --- |
| | |
Matrox Axio LE HD editing PC

Matrox Axio LE system for sale, including:

HP xw9300 quad core PC

Adobe Premiere Pro 2.0

Matrox Axio LE (including breakout box)

Can work with SD & HD video, with real-time effects, and I/O connections that include SDI/HD-SDI, analogue YUV & composite, balanced XLR audio. This is the "big brother" of the RT.X2

HP xw9300 PC specification

Dual AMD Opteron 270

2GB (4x512mb) DDR-400 ECC-Registered RAM

ATI X1900XT 512MB graphics card

80GB SATA 7200rpm system disk

1TB additional storage drive

16x DVD+/-RW with Lightscribe

Ultra320 SCSI back panel connection

Windows XP professional 32-bit


Hardly used since purchase in Dec 2006

£750
Matrox RTX100 editing PC

Supermicro motherboard with Intel P4 3.2GHz processor.


2GB RAM installed.


One removable and two permanent hard drives.


Windows XP with original licence.


19" Iiyama widescreen LCD monitor.



Comes with Matrox RTX 100 video editing card and break out box.


Adobe Premiere 1.5 video editing software and Adobe Encore 1.5 DVD authoring.

Original discs and original + third party manuals for Adobe software items.

Mainly used to edit professional wedding productions.

£690. No offers.
Remainder of AVID Edit Suite
with DVCAM VTR

This was a complete Avid system, now for sale, as installed at Centini and used to cut a variety of broadcast work including "Go North West" and "Locks & Quays". It included Media Composer v3.1 with analogue Mojo installed on a 3.6GHz P4 PC with 2x 19" LCD monitors. There's a Sony PVM 1444 video monitor (with 16:9 switch), a DSR 25P DVCAM deck, a 1394 switch box, a Sony TA-AX audio amp and Soundcraft Absolute Zero monitor speakers plus a mono PPM unit. For voice-over recording there's a Behringer UB1002 mixer and headphones. Most of it has been sold but some parts remain, as per the list below. Email for full details.


| | |
| --- | --- |
| Item prices for remains of a used Avid Edit Suite (pictured above) | Price (ex VAT) |
| Avid Keyboard (for PC, with PS/2 connector) | 40.00 |
| Sony SLV-SE840 VHS deck | offers |
| Sony RDR-GX210 DVD recorder | offers |
| Audio & video cables - various | offers |
Acer 1714 - 3.4GHz P4 Laptop with 17" LCD desktop performance in a mobile form factor

Acer Aspire 1714SMi Laptop with WindowsXP. As new condition. Bought for demonstrating Avid Xpress & Premiere Pro at trade shows but otherwise virtually unused.
Although no longer in production, this model remains an ideal base for a mobile video editing system. That's because it's got a full spec 3.4GHz Pentium 4, still quite a respectable speed on a current machine. It's got a big 17" LCD screen running at 1280x1024 from an Nvidia 5700 chipset with 128MB RAM. It also has S-Video TV out from which you can get a full-screen version of Premiere or Avid's video preview window.
The system RAM is 1GB (2x512MB), but could be swapped for 2x1GB. Likewise, the 120GB hard disk is a full size 3.5" unit (not the normal 2.5"), so it too could be swapped for anything up to a 500GB unit, which would make for a pretty respectable edit machine. On top of that, it's got a DVD writer, two 1394 firewire ports, both gigabit and wireless ethernet and lots of USB2 ports. Complete with original box & accessories. The replacement models aren't as upgradeable because they've gone back to using 2.5" disks to keep the size down.

Price - 390.00
Used DPS PVR Perception with SDI (very rare!)

Old but tested/working complete PAL PVR system in 4U rack-mount case. Includes base PC with WinNT4, SCSI 'P'-drive, PVR3500, Antex Studiocard (audio) and DPS SDI I/O card for PVR. Will split. (PVR3500 80.00, Antex 40.00, SDI for PVR 150.00)

Price - 170.00 complete
Used PAG MC2 4-way NiCad Battery Charger for sale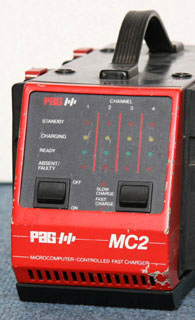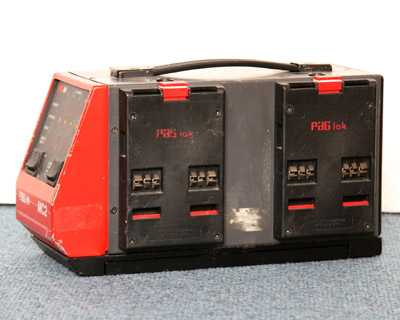 Old but tested/working PAG battery charger for PAGLok camera batteries. Fully automatic with microprocessor control. Will charge all PAG NiCad batteries up to 14V (and others - eg battery belts) Slow and fast charge modes. Standby, Charging, Ready and Absent/Faulty status display for each battery connected.
Price - 25.00
19" Equipment Racks
Used Light duty 17U rack for sale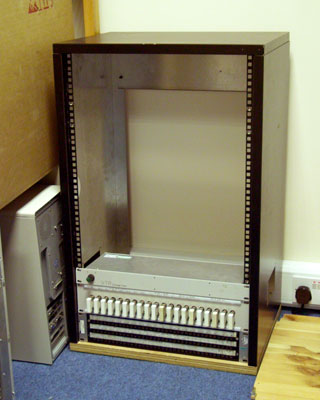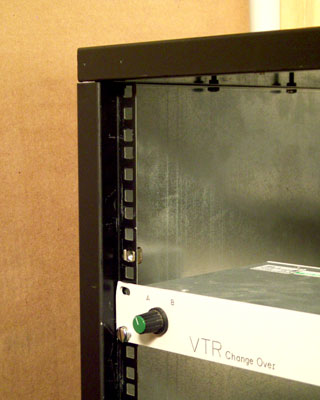 Height 850mm, depth 400mm. Folded steel construction with a wooden base. Ideal for lighter/shallower rack equipment like patch-bays and effects units. That said, it's still quite heavy and would require collection. (Pictured equipment is not included)
Price - 24.00
Used Audio equipment for sale
For sale - used Sony TA-AX2 audio amp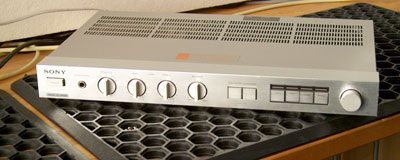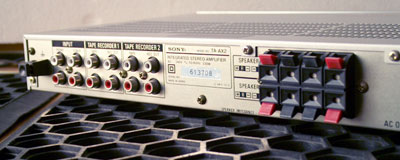 Sony TA-AX2 amplifier. Good condition. Drives two sets of speakers (A, B, A+B), with four line inputs and two tape sends, so can switch between computer, VTR, DVD, etc. Fits in 1U of rack space (but needs a shelf).
SOLD
Used BBC style PPMs for sale


We have a few audio PPMs available, usually in rack-mount boxes, and can help install and set them up in any edit environment. As a long-time PPM user and devotee, Martin can advise you on most PPM-related matters. We also have the non-BBC scale (nordic?) PPM meter pictured right, featuring twin level meters plus a LED phase meter in a 2U rack mount case.
Prices - from £140
Used PSC DV Pro Mix 3 stereo portable audio mixer for sale


Professional Sound Corporation DV Pro Mix 3 stereo audio mixer. Three mic/line inputs (all on XLRs), main output on 2x XLRs (switchable to mic or line level), headphone out on 3.5mm mini- jack . Mic inputs have three-position gain switch for Line, Dynamic mic & Condenser mic levels, P48 Phantom Power on/off, bass roll-off (at 20, 80 or 150Hz), and L/R/Centre pan switch. Includes tape return i/p on mini-jack with Direct/Tape selector switch and headphone volume on the front panel. Bright LED L/R level meters. Powered by two 9V PP3 batteries. Includes protective shoulder bag & strap (although not the one shown).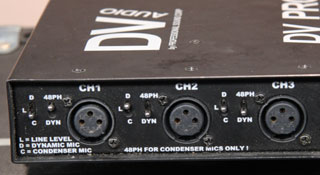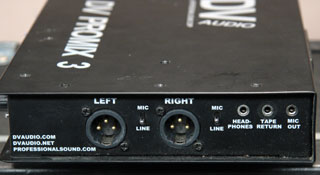 Price - 270.00 (Not currently available)
Used Audio 2020 UHF Diversity Radio Mic for sale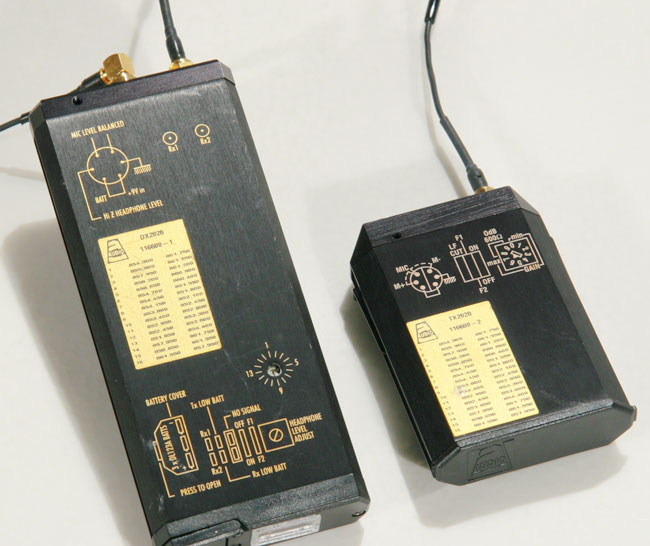 Audio TX/DX 2020 UHF diversity radio mic transmitter & receiver pair. Industry standard broadcast-quality radio mic. Little used and in very good condition (apart from slightly kinked TX aerial - it only takes one person leaning back on it a few times!). Includes output cable and can include a used Tram microphone at extra cost.
Price - 450.00
Video Monitors
Used SONY PVM-14M2 MDE for sale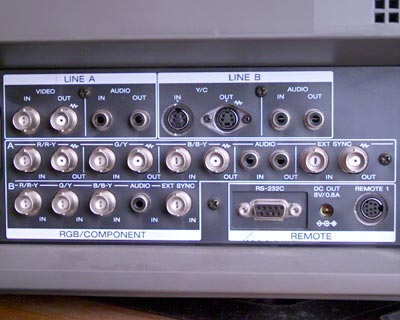 Sony 14M2 14" Professional monitor with composite, Y/C & (2x) component (YUV or RGB) video inputs, plus audio. Medical version of the 14M2E, hence white casing. Trinitron tube, Underscan, PAL/NTSC, external sync, etc. Very clean condition
Price - (was 325.00) 85.00
SONY PVM-1444QM - with 16:9 mod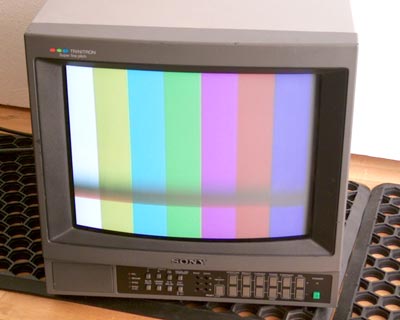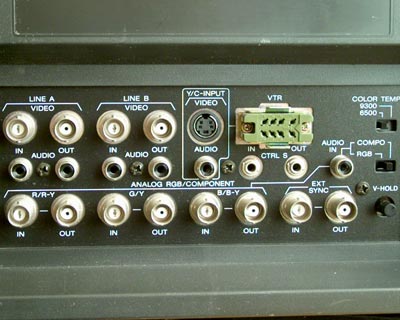 Sony PVM 1444 14" Professional monitor with composite (x2), Y/C & component (YUV or RGB) video inputs, plus audio. Trinitron tube, Underscan, PAL/NTSC, external sync, etc. Modified to include 4:3-16:9 picture height reduction switch (on rear panel).
Various customers' items
none of these items are available to view at our Manchester office - they are held by the respective customers
JVC GY-HM750E camera and sound kit for sale
One 27" iMac 2.7GHz Intel core i5 4GB memory 1333MHz DDR3 AMD Radeon HD 6770m, inc; wireless keyboard, track-pad and wired keyboard and mouse. (Purchased new, March 2012) - £999

JVC GY-HM750E with Canon 14x lens, inc Sennheiser microphone & Rycote windshield. Plus JVC camera supplied microphone, base-plate and e-image flight bag with wheels (Bought in March 2012, hardly used) - £3500

Lighting equipment includes; 3 Manfrotto light stands (Very high) 2 x brolly reflectors, assorted coloured gels, two Arri 800s, one Chimera softbox, one green-screen cloth, one 12v pag light, one Lastolight reflector, one floor spreader bracket and pole, one Manfrotto mono tripod, assorted spun and crocodile clips,3 x light bulbs. One Manfrotto softcase for light stands. - £650

Sennheiser Mikroport SK2012 VHF radio mike and receiver plus assorted connectors. - £195

Rode NT2 Microphone - £150

Swit SC 302s charger and 2 x Swit batteries S-082S batteries. - £350

Adobe Premier Pro CS5 - £425

One Logic keyboard - £60

One Sennheiser microphone, Rycote windshield, windjammers, XLR cables and optex boom pole - £395
Used DPS Perception ( PVR )

Playback & capture boards with cables. Composite, Y/C & component YUV I/O plus genlock in.
Price - 350.00 (or £475.00 including an Antex Studiocard)

Note - all prices quoted on this site are UK pounds - ex VAT & delivery - no exports, UK delivery only
2.5% surcharge on Credit & Company Debit Card payments

All "Car Boot" items are effectively "sold as seen" and are not sold with either the manufacturer's warranty
or our normal warranty unless explicitly stated. Inspection/collection is recommended (at our Manchester office),
and you are welcome to perform any reasonable test before buying.
All sales are final - this is a Car Boot Sale after all!
For a full selection of used broadcast equipment, try


" I've been a regular contributor to user groups and technical forums for the last 20 years or so, and have written hundreds of posts offering advice and information on a whole range of computer, audio & video production topics."