Hard Disk Storage Options
Generally, like health, wealth and happiness, you can never have too much video storage on your edit system. That said, you can always add more disks later when you need them, and with the general downward trend in disk prices (measured in $$$/GB) there's no point in buying more than you need, until you actually need it.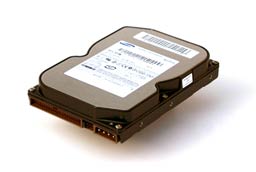 So how much disk space do you need?
The first consideration is the quality level (or compression ratio) that you'll be working at. The chart below lists approximately how much Standard Definition video you can store on a 36GB SCSI disk at various quality levels. It takes into account that an 36GB disk is often closer to 34,000MB, and that you can't expect to reliably fill the disk with video beyond about 90% capacity, so the predictions are hopefully more realistic than optimistic.
Data Rate (MB/sec)

Compression Ratio

Approx. Quality

Mins per 36GB

Mins per 80GB

GB per Hour

1
20 : 1
Off-line, sub-VHS
510
1040
4
3.5 (DV25)
5 : 1
DV, DVCam, DVCPro
140
310
15
5
4 : 1
BetaSP
100
220
21
7 (DV50)
3 : 1
DVCPro50, Digital-S (D9)
72
160
30
10
2 : 1
Digi-Beta
50
110
42
20
1 : 1
Un-compressed
25
55
84
For 10bit Standard Definition and HD uncompressed data rates see our Bluefish444 product page.
Sample disk options
ITEM

PRICE (ex VAT)

Dual 18GB 10,000rpm LVD SCSI in external enclosure with 68pin cable and term
4

25

.00
Dual 36GB 10,000rpm LVD SCSI in external enclosure with 68pin cable and term

465

.00
Quad 36GB (144GB)10,000rpm LVD SCSI in external enclosure with 68pin cable and term

900

.00
Dual 72GB (144GB)10,000rpm LVD SCSI in external enclosure with 68pin cable and term

755

.00
Quad 72GB (288GB)10,000rpm LVD SCSI in external enclosure with 68pin cable and term

1

,

475

.00
Dual 144GB (288GB)10,000rpm LVD SCSI in external enclosure with 68pin cable and term

1

,

355

.00
Quad 144GB (576GB)10,000rpm SCSI in external enclosure with 68pin cable and term

2

,

675

.00
Firewire 1394 & IDE options
| | |
| --- | --- |
| ITEM | PRICE (ex VAT) |
| Up to 200GB IEEE1394 Firewire external drive with cable and power supply | Varies daily |
| NEW Firewire Caddy Kits - external drive kit with swappable caddies - very flexible, up to 200GB | Variable |
| Generic IEEE 1394 OHCI Firewire adapter card - PCI. Usually includes a basic NLE package | 30.00 |
| IDE Drives up to 200GB fixed, external & removable versions available - please ask for current prices | Variable |
| ZEN RH removable hard drive kit with one insert - fan cooled alloy construction for 5400/7200rpm IDE drives | 30.00 |
| Drive Insert kit - additional removable housing to fit existing ZEN RH caddy kit | 15.00 |
| LaCie Firewire & USB2 drives - see our LaCie page for details. | from LaCie |