Archive page -
for reference only

Matrox Gold Dealer (since 2000)

for RTX Cards and complete PC systems - Axio available too
Full RT.X2 systems supplied & configured
Important Matrox Info - v5.0 public beta drivers for CS5, Aug '10
Matrox has released a public beta of the drivers which will support the RT.X2 under Adobe's CS5 version of Premiere Pro. Whilst they are useful for adding support to CS5 for the playback of Matrox AVIs containing HDV video (which requires the Matrox hardware for decoding), the drivers are far from bug-free and should not be considered to be "production-ready". They definite reduce the stability of CS5, and have various field-order issues with PAL SD video.

An RTX2 editing system, with dual 23" LCD PC & TV monitors
RT.X2 Key features

Realtime multi-layer workflows that combine HD and SD material from analogue and digital sources using RTX2

Realtime Matrox Flex CPU effects - color correction, speed changes, chroma/luma keying and many more

Realtime and accelerated Matrox Flex GPU effects - 2D/3D DVE, blur/glow/soft focus, shine and many more

Native HDV and MPEG-2 4:2:2 I-frame (up to 100Mb/s) HD editing

Native DV, DVCAM, DVCPRO, and MPEG-2 4:2:2 I-frame (up to 25Mb/s) SD editing

Realtime mixing of HD codecs and SD codecs on any timeline

Realtime mixed-format multi-cam on RTX2

Realtime high-quality hardware downscaling for SD output from an HD timeline RTX2

Accelerated export to DVD, multimedia formats including Flash Video, and Adobe Clip Notes

WYSIWYG for Adobe After Effects and Photoshop, Autodesk Combustion and 3ds Max, eyeon Fusion, and NewTek LightWave 3D with dynamic Alt+Tab switching

Full-length PCI-Express card (uses 1x PCI-Ex slot). LE version is shorter.

Breakout box includes Composite, Y/C, HD/SD analogue YUV component input and output

Full-resolution HD monitoring on an inexpensive flat panel display via independent DVI output (NOT included on LE version)

Bundle version includes Adobe Premiere Pro CS4.

Improved functionality within Premiere Pro (compared to RTX100) - VU input meters on capture and Voiceover recording now supported

Version 2 drivers support Premiere Pro v2.0

Version 3 drivers support Premiere Pro CS3

of RT.X2
with Premiere CS4

Note - all prices quoted on this site are UK pounds - ex VAT & delivery

ITEM
PRICE (ex VAT)
RT.X2 LE HDV hardware-only (card & breakout box) for use with Premiere Pro CS3/4 only
749.00
RT.X2 LE HDV bundle including breakout box & Premiere Pro CS4 (inc Encore & OnLocation)
1,075.00
RT.X2 HDV hardware-only (card & breakout box) for use with Premiere Pro V2 & CS3/4
875.00
RT.X2 HDV bundle including breakout box & Premiere Pro CS4 (inc Encore & OnLocation)
1,199.00
RT.X2 SD hardware-only (card & breakout box) for use with Premiere Pro v2.0 & CS3/4
599.00
We are selling one of our PC systems used to demo the RT.X2, with various options
from 830.00

MATROX ACCESSORIES

See Adobe Software here
RS232-RS422 h/w converter (for VTR control) for use with Premiere Pro v2/CS3/CS4
55.00
ProVTR RS422 VTR Control plugin for Adobe PremierePro (1.0 & 1.5) and RT/RTX cards
150.00
High quality colour coded Adobe Premiere

Pro

keyboard (UK)

64

.00
v4.2 drivers released, Jan '10
Windows 7 is now with us, along with Premiere Pro CS4.2, and as usual this requires a new driver from Matrox to support their cards. The good news is that Matrox have now released new 4.2 drivers via their web site. These drivers are designed to work with Adobe's recently released 4.2 & 4.21 updates to Premiere Pro CS4, which you should not install until you can install the Matrox 4.2 drivers at the same time.
Earlier in 2009, the Adobe Premiere Pro CS4 4.1.0 update introduced major issues with Axio and RT.X2 systems if you updated to it from v4.0 without updating your Matrox drivers at the same time. Matrox has v4.1 drivers that support the Adobe 4.1 update, and which can be downloaded from the Matrox web site.

If you have already installed the Adobe Premiere Pro CS4 4.1.0 update without the new Matrox drivers, you will loose transparency when using Matrox effects or videos containing alpha. You will also experience instabilities when using the Matrox chroma key and during rendering. If you wish to revert back to Adobe Premiere Pro CS4 4.0.1, you must first uninstall Matrox Mx.tools or Axio.utils and Adobe Premiere Pro CS4 4.1.0. Once the Matrox and Adobe software has been removed, re-install Adobe Premiere Pro CS4 4.0 and then re-install the Adobe Premiere Pro CS4 4.0.1 update which is still available on the Adobe website. After the Adobe software is re-installed, re-install Matrox Mx.tools or Axio.utils.
V4.0 RT.X2 drivers are for Premiere Pro CS4.01 only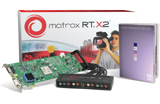 Matrox RT.X2 release 4.2 is now available from the Matrox website, explicitly for the 4.2/4.21 versions of Premiere CS4.
Matrox v4.0 drivers support Adobe Premiere Pro CS4, version 4.0.1 (earlier versions of Adobe Premiere Pro are not supported). Both 4.0 & 4.1 versions include the following new features:-

Support for the 64-bit version of Microsoft Windows Vista Business or Ultimate allows users to break the memory limitations of 32-bit operating systems and install more than 4 GB of RAM on their system for improved stability and performance. Vista 64-bit also breaks the 2 terabyte disk-size limitation which exists in 32-bit operating systems. Microsoft Windows XP Professional, Windows Vista Business, and Windows Vista Ultimate (32-bit versions) are also supported.

New DVI monitor calibration utility that turns your DVI monitor into a true-color video display for use with SD and HD video. Controls for hue, chroma, contrast, brightness, and blue-only let you adjust and control your DVI monitor exactly as you would a broadcast HD/SD video monitor. (Not applicable to RT.X2 LE or RT.X2 SD.)

WYSIWYG support for Adobe Encore CS4 that lets you preview video played back from the timeline on your video monitor by setting the player for your project to Matrox Player (available on the Advanced page of the Project Settings dialog box).
Please note that in order to offer CS4 and Vista 64-bit support as quickly as possible, there is no support for Matrox accelerated exports in v4.0, and some support in v4.1 (for Matrox AVIs). Otherwise, exports are only supported in VFW mode. These Matrox accelerated exports are available via a custom Tab in the Media Export settings when running the v4.1 drivers. This export will be performed in a modal fashion (like in CS3) so users save the setup time and disk space required to run the Adobe Media Encoder. However, they will have to wait for the export to complete in order to continue working.


Extras for use with RT.X10/10

0

& RT2000/2500 & Premiere
Premiere Pro Editor's Keyboard - 64.00
Pipeline ProVTR plug-in - control RS422 VTRs from Adobe Premiere 6.5 & Pro 1.0/1.5 (with cable) - 150.00
Boris FX - the all-round effects module! - 150.00
RTX-CVO Composite Video Output adaptor (see below) 15.00
RTX-CVO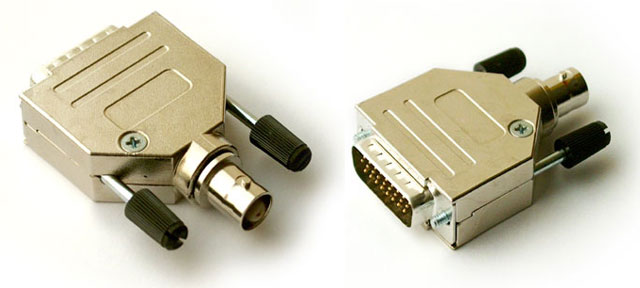 Lost or damaged your RTX 100 breakout cable? Or need something simpler to just get a video output for monitoring? The RTX-CVO plugs directly into any Matrox RTX 10/100 card to give composite video out on a female BNC connector.
Price - 15.00