Archive page -
for reference only

In-Sync Speed Razor v5.5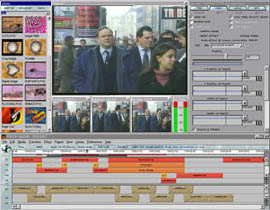 The most powerful realtime digital video editing and compositing software for Windows NT & 2000 - Now with improved batch capture! Speed Razor an invaluable tool for long and short form professional editing projects for film, television broadcast, animation, and multimedia. It provides important improvements in batch capture and print to tape, expands hardware support, and fixes a number of outstanding software issues. Speed Razor also provides a Garbage Matte and other effects. Speed Razor 5.5 is available as an upgrade from Speed Razor 4.x/2000/X.
Speed Razor is built for high-speed, high-quality editing and compositing. The interface is streamlined and fully multi-threaded for fluid workflow. Editing tasks have extensive keyboard and mouse shortcuts, with new trim and preview options, letting you work quickly and accurately through all phases of a project. And it delivers dramatically fast processing speed for video effects.
Speed Razor features multiple preview windows, a stand alone VU meter and new customizable tool bars, adjustable color schemes, and other user options.
Developed for a broad range of professional post production and broadcast needs, in-sync Speed Razor features multiple input and output up to D1 quality, full field rendering, no project length limits, flexible effect compositing tools, and real-time audio mixing (up to 20 tracks).
Files, Import and Output
Edit full screen uncompressed / lossless / compressed online D1 quality images for NTSC or PAL output
NTSC/PAL file conversion in software
Read and write BMP, DIB, JPEG, TGA, CIN (Cineon), RAW (Sony Playstation), SGI RGB (Silicon Graphics) WAV Audio, MJPEG and Video for Windows AVI

Direct Export of MPEG from the timeline

Import and export CMX, Grass Valley, and Sony BVE EDLs
Full 64 bit color depth for Cineon and SGI files
Share files among supported video hardware formats when working over a network
Export to Library option for rendered areas on timeline
Automatic scale on import
Capture and Print to Tape
RS-422 deck control for automatic batch capture, recapture, and frame accurate print to tape (compatible with UVW1800, PVW 2800, BVW 70, AJD 750 and many other professional level video decks)
SMPTE timecode support (VITC, LTC, and Control track)
Drop frame and non-drop frame timecode support
Input Firewire, D1, SDI, component, s-video, and composite video
Auto recapture video at a higher quality after editing
Audio VU meters for capture and batch capture
Project Management
Automatic storage for audio, video and work files in project folders
Automatic drive control for audio and video storage
Individual settings per user and customizable interface preferences
Automatic hardware detection
Auto save and save multiple versions of a project
Customizable Library bin holdings by file type, time, length, and key words
Ability to attach and separate video and audio files
Tools for searching and replacing items in project
Video Editing Features
Edit and play back video with multiple layers of effects and transitions in realtime
Edit and play back still image sequences in realtime
Unlimited video and audio tracks
Advanced trim functions: Edit clips on timeline or in Library, trim result and source timecode, slip trimming
Scrub video and audio at variable speeds forward or reverse using "sticky" or "non sticky" jog/shuttle control
Apply markers during video and audio playback; move, edit and add notes to markers
Split, trim, cut, select, place and move clips with keyboard shortcuts
Insert edit and fit-to-gap placement
Change video speed with fully adjustable frame rate; automatic speed change for fit-to-gap insert
Storyboard options: Organize, trim, select multiple clips, play sequences, move as a group to Composition Window
Multiple, named levels of undo/redo
Timeline view in drop or non-drop frame
Filmstrip, end pictures, and titles only options for viewing clips on timeline
Ripple or non-ripple editing modes; move individual clips or as a group
Edit large images and long image sequences
Extensive zoom capabilities using keyboard shortcuts
Virtual editing: Edit items from batch capture list before capturing
Loop playback for editing audio and video
Edit in 24 fps mode (with compatible hardware)
Compositing
Composite on unlimited layers of video tracks
View and edit multiple layers of effects with no generation loss; apply effects to multiple tracks simultaneously
Composite film size images with resolution independence
Color difference (chroma and luma) keying (in realtime with some hardware)
Still or traveling matte compositing with new, key-frameable Garbage Matte tool
Mask (alpha channel) compositing, enable and invert masks for effects
Use skip overlay and self background options for complex composite images
Audio Editing
Mix six to twenty stereo tracks in realtime (depending on hardware)
Mix unlimited audio tracks in non-realtime
Supports up to stereo 16 bit, 48 kHz uncompressed, DAT quality input and output
Adjust volume level and pan in real time (single or multiple clips) using mixing faders
Automatic interpolation and anti-aliasing, and audio dampening
VU meters during editing, capture, and print to tape
Select individual clip waveforms or dual waveforms for stereo tracks
Audio voice over: Record voice over during video playback
Audio master gain control
Effects and Transitions
Field rendering for all special effects and transitions
Anti-aliased and field rendered motion path generator
Apply transitions between multiple tracks
Quick placement of transitions and effects using keyboard shortcuts
Adjustable quality settings and frame lock for quick previewing of effects
Bezier curves for smooth adjustment of effects and transitions
Scalable parameters and advanced node conrol
Render in field or frame mode
Wide range of transitions including wipes, fades, dissolves, and mattes
Over 50 effects including: Garbage Matte, 3D DVE, blur, crop, image filter, gradient, ripple, color correction, emboss, gamma, scale, chroma key, and travelling lens flares
Preview video on VGA screen and external monitor, user preferences for preview
Resizable source, result, and playback preview windows on VGA screen
Speed and quality settings for certain software video effects
Compatibility
Windows NT 4.0, 2000 & XP
Video capture hardware support: DPS PVR Perception & Matrox Digisuite series
See System Requirements page.
Compatible with major animation packages: 3D Studio Max, Lightwave, Softimage and others
Software plug-in support for Ultimatte, Inscriber, Boris Effects, Spice Rack, Hollywood FX, and others (for more information see our website)
New compatibility standard (k-sync) for third party hardware and software developers
Support
Telephone and email tech support
Priority support options available
Product upgrades, troubleshooting support, online documentation, and information on user bulletins available from website