Grass Valley / Canopus



A leader in advanced codec technology, Canopus is an engineering-driven company that continues to develop all technology on which its products are based, in-house.


Canopus, now a part of the Thomson/Grass Valley group, offers a complete line of video capture and editing solutions to customers in 55 countries, through its headquarters in Kobe, Japan and sales offices in Australia, China, Germany, Italy, the United Kingdom and the USA.
NLE Software for Editing DV, HDV, AVCHD, etc
Edius v6.5 now available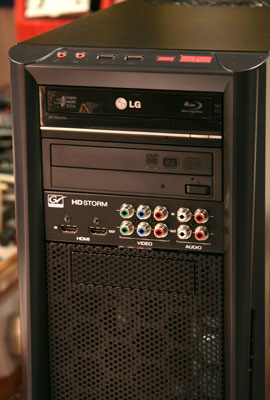 EDIUS nonlinear editing software is designed for any broadcast and postproduction environments, especially those with newer, tapeless forms of video recording and storage. Perfect for file-based workflows, EDIUS software offers real-time, multi-track, mixed-format editing, compositing, chroma keying, titling, and timeline output capabilities.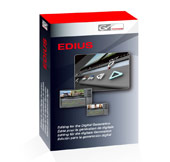 EDIUS 6 is the most powerful version yet of the acclaimed non-linear video editing software application from Canopus/Grass Valley, and now adds support for 32 & 64bit versions of Vista & Windows 7. Freeing video editors from the limitations of conventional editing systems, EDIUS 6 provides a seamless realtime workflow supporting all video acquisition formats with realtime, multi-track, mixed format HD/SD editing, compositing, chroma keying, titling and timeline output capabilities. EDIUS 6 provides editors with realtime, mixed format HD/SD editing including HD, HDV, DV, MPEG-2, lossless and uncompressed SD video.

EDIUS is ready to move existing standard definition video to the world of HD. For example, with one simple setting, EDIUS edits DV content in HD resolution, providing the highest quality realtime up-res conversion from standard definition to high definition video, and all project titles, graphics and effects are performed in HD resolution. Ensuring a painless transition to the world of HD, editors can edit and output newly-created HDV content to hard disks or DVD-R drives without requiring an HDV camera or deck.

Edius 6 includes support for all the higher-end video equipment and formats, previously only available in EDIUS Broadcast, such as Panasonic DVCPRO® 50, DVCPRO HD, DVCPRO P2, AVC-Intra and VariCam®, Sony XDCAM®/EX, GFCAM, AVCHD, JPEG2000and Windows Media®.
Edius 6 features:
* 10-bit editing support
*

2K/4K resolution support
* Free-shape mask filter
* 16 camera multicam editing
* Proxy mode workflow
* Canon XF format and EOS movie format support
* Exporting in AVCHD format to a media card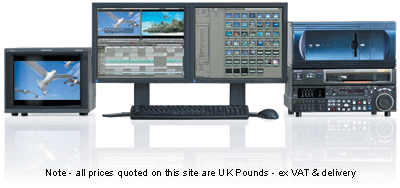 ITEM
PRICE (ex VAT)
EDIUS Neo 3 software

EDIUS Neo 3 gives users the ability to work with a wide variety of video formats up to 1080p50/60 resolution. Based on the new Grass Valley EDIUS® 6 NLE software, EDIUS Neo 3 allows editors to focus on being creative without having to wait for effects and transitions to be rendered. EDIUS Neo 3 has the fastest native AVCHD editing capability in the industry; perfect for editing video content captured with digital SLR cameras, such as the Canon EOS, as well as additional AVCHD video cameras. EDIUS Neo 3 requires no transcoding, even when different compression formats and image resolutions are mixed on the timeline New features include 3D Layouter, a tool for managing 3D digital effects, an audio mixer, full-screen preview and motion menus for DVD and Blu-ray Disc production.

140.00
EDIUS Neo 3 (bundled with HDSpark card)
370.00
EDIUS 6.5

EDIUS 6 offers an unparalleled support of formats including the newer file-based formats JPEG 2000, XDCAM and XDCAM EX, P2 (DVCPRO and AVC-Intra), AVCCAM, AVC-HD and GFCAM. It can run under XP, Vista or Windows 7 whilst retaining it's class-leading real-time, mixed format support - even on the same timeline. The software offers numerous speed and functionality improvements from earlier versions and V6.5 includes 3D processing & monitoring support, broadcast-style loudness metering, sideways preview mode, BluRay (& DVD) authoring from the timeline, quick 3-way colour correction with split-screen preview.

445.00
Edius 6.5 upgrade from Edius 6.0
190.00
Edius 6.5 cross-grade from previous versions (pre-v6) or other NLEs
249.00
HDSpark HDMI in/out card, no editing software
270.00
EDIUS HDSpark inc Edius 6.5
535.00
HDSpark Pro SDI in/out card, no editing software
325.00
EDIUS HDSpark Pro inc Edius 6.5
650.00
EDIUS Storm Mobile for notebooks inc Edius 6.5
975.00
EDIUS Storm Mobile for desktops inc Edius 6.5
875.00
Procoder 3 - software media transcoder
330.00
Full Systems & other Grass Valley products - please enquire for pricing, or see the systems for Adobe page for sample PCs that are equally suitable for running Edius
phone or email