Archive page -
for reference only

Whilst we can still supply Blackmagic products,

we currently mainly supply Magewell
video capture cards & USB devices
Blackmagic Design




SD to HDMI Mini Converter

Blackmagic Design's founders have had a long history in post-production editing and engineering. With extensive experiences in high-end telecine, film and post, harnessed with a real passion for perfection, Blackmagic set out to change the industry forever.

Blackmagic has created some of the most talked about products in the industry. This started in November 2002, when they launched the DeckLink capture card and in doing so single-handedly made working in true 10 bit uncompressed video on a Macintosh OS X™ system an affordable reality. The DeckLink card has become a market-leading product due to Blackmagic Design's philosophy of delivering "what ever it takes to give creative editors and designers the very best quality tools".

Blackmagic Design has set the standard for an entire industry. With innovation and quality at the heart of every project, Blackmagic launched a rapid succession of amazing products for creative people.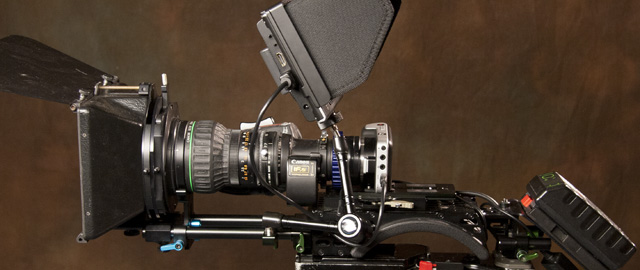 Blackmagic product overview

The product range includes HD & 4K PCI-e cards & USB3 devices, external converters, solid-state recorders, matrix routers, vision mixers and cameras.

All Decklink & UltraStudio devices can output 8 or 10bit uncompressed video over SDI with embedded audio. The different models have additional combinations of analogue and digital I/O. They also include an RS422 port and software for controlling any VTR that uses Sony-compatible RS422 protocol, which covers most professional and broadcast decks.

| | |
| --- | --- |
| HDLink Pro DVI connects HD-SDI video directly to any supported DVI-D or HDMI based LCD computer monitor for incredible true HDTV resolution video monitoring. With every individual pixel in the HD-SDI video standard mapped digitally onto the pixels of a HD-resolution LCD display, you get a perfect digital-to-screen pixel for pixel HDTV display. Features dual link 3Gb/s SDI for 2K, HD and SD compatibility, built in 3D lookup table colour management, hardware up-scaling and 6 channel analogue audio outputs. Read more | |


of Intensity Shuttle
Video Assist
Atem TV Studio
& BMPCC (camera)




Decklink
HD Extreme 3D




Hyperdeck Shuttle
Ultrascope

The complete PC-based test & measurement tool for video monitoring and alignment.

Blackmagic Ultrascope is available as a card or USB3
input adaptor plus software
to install in your own PC,
or as a complete system.

Sample system spec:-
3GHz i3 CPU, 4GB RAM, ATI 4650 graphics card, Win7 Home Premium, 500GB H/D, LG 23" 1920x1080 HD LCD monitor and the Ultrascope hardware/software package installed.

UltraScope automatically detects between SD, HD and 3Gb/s HD-SDI video standards and includes both traditional copper BNC SDI inputs as well as optical fibre SDI inputs.

Blackmagic UltraScope is a combination of a hardware input device and software package designed to work in a PC, with a 1920 x 1080 HD-res monitor for display. This allows 6 simultaneous waveform displays that can show RGB and YUV parade, luminance, digitally synthesized composite, luminance & composite, vector-scope, histogram, 8 channel audio metering, 2D audio scope, and picture view with video standard display and HD RP-188/SD VITC reader display.

Blackmagic UltraScope is the world's first PC based waveform monitor that combines technical accuracy with elegant design, making it perfect for master monitoring, quality control, edit suites, colour correction, equipment rooms and video engineers.

Decklink Studio

Decklink cards

Note - all prices quoted on this site are UK pounds - ex VAT & delivery
2.5% surcharge on Credit & Company Debit Card payments
ITEM
PRICE
Video Recorder - USB adaptor/capture device for creating H264 video files for the web
100.00
H264 Pro Recorder - encodes H264 in HD/SD from SDI, HDMI & analogue sources . External box connects via USB2
380.00
Web Presenter - webcam emulator from SDI/HDMI
380.00
Intensity Pro - HDMI I/O card with analogue - PCI-Ex
155.00
Intensity Shuttle - HDMI + analogue I/O - External USB3 box (Windows only)
155.00
Asus U3S6 SATA600 & USB3 card for PCs (4x PCIe slot)
30.00
Micro Cinema Camera - "S-16" HD sensor, MFT mount & remote control
795.00
Pocket Cinema Camera - "Super-16" HD sensor & MFT mount
795.00
Cinema Camera - 2.5K sensor & EF or MFT mount
1,600.00
Cinema Camera - 2.5K sensor & PL mount
1,850.00
Production Camera - 4K sensor & MFT mount
2,395.00
Micro Studio Camera - 4K sensor & MFT mount
1,040.00
Studio Camera - HD sensor (as per Pocket Camera) & MFT mount
1,375.00
Video Assist 5" HD monitor and recorder (to SD card)
380.00
Video Assist 4K 7" HD monitor and HD/4K recorder (to SD card)
690.00
Hyperdeck Shuttle 2 - HDMI + HD/SDI portable recorder to SSD (disks extra)
295.00
Hyperdeck Studio Mini SDI recorder onto SD cards
645.00
Hyperdeck Studio 2 - HDMI + HD/SDI 1U Rack recorder to SSD (disks extra)
855.00
Hyperdeck Studio Pro 2 - HDMI + HD/SDI 1U Rack recorder to SSD (disks extra)
1,295.00
UltraScope - 6-way engineering monitor display via SDI (inc PCIe card)
545.00
Pocket UltraScope - for PC Laptops - includes SDI to USB3 adaptor
450.00
Decklink Mini Recorder (input) or Mini Monitor (output) with HDMI+SDI
115.00
Decklink 4K Mini Recorder (input) or Mini Monitor (output) with HDMI+SDI
150.00
Decklink SDI 4K - PCI-Ex - basic SDI I/O in SD & HD (with RS422 deck control)
230.00
Decklink Duo 2 - 4-port input/output HD/SDI card (eg for use with vMix or VidBlaster)
380.00
Decklink Quad 2 - 8-way input/output HD/SDI card (eg for vMix or VidBlaster)
755.00
Decklink Studio 4K - PCI-Ex SD & HD SDI & YUV I/O plus digital/analogue audio I/O
450.00
UltraStudio Pro - External USB3 SD & HD I/O
695.00
UltraStudio SDI - External USB3 SD & HD I/O - cut-down version of U/S Pro
305.00
Decklink 4K Extreme 3D - PCI-Ex
750.00
HD Link Pro (HDSDI > DVI Monitoring adaptor) 6Ch 5.1 audio out
390.00
DVI Extender - converts DVI output from PCs to HD-SDI with embedded audio
305.00
Mini Converters - heavy duty alloy shell
- SDI to analogue video, inc AES/EBU & balanced audio outputs
- analogue video to SDI, inc AES/EBU & balanced audio inputs
- SDI to HDMI, plus AES/EBU & balanced audio outputs

- HDMI to SDI, plus AES/EBU & balanced audio inputs

265.00
each type
Mini Converters - normal casing
- SDI to analogue video, inc AES/EBU & balanced audio outputs
- analogue video to SDI, inc AES/EBU & balanced audio inputs
- SDI to HDMI, plus AES/EBU & balanced audio outputs

- HDMI to SDI, plus AES/EBU & balanced audio inputs

150.00
each type
Audio Mini Converters
- SDI to 4ch de-embedder, analogue or digital outputs
- 4ch embedder, analogue or digital inputs, SDI o/p
150.00
each type
Other signal converters
enquire
Mini Converter - Up/Down SD/HD Cross-converter, SDI to SDI,
225.00
Mini Converter - Sync Generator with HD Tri-Sync & SD Black/Burst outputs
155.00
Teranex Mini converters
385.00
Teranex Express - SD, HD and Ultra HD broadcast up/down converter
1,055.00
Smart Control panel (for "one button" router control)
380.00
Smart Videohub Cleanswitch (12x12 way SD-HD & Ultra HD SDI router/switcher) with control panel
1,150.00
Smart Videohub (20x20 way SD-HD & Ultra HD SDI router/switcher) with control panel
1,550.00
Atem Television Studio 6-input SD/HD vision mixer using s/w control
775.00
Atem Television Studio HD 8-input SD/HD vision mixer (f/panel controls)
775.00
Atem Production Studio 4K 8-input SD/HD/4K vision mixer using s/w control
1,320.00
Atem 1 M/E 4K Production Switcher 4-input SD/HD/4K vision mixer using s/w control, inc DVE, six keyers & software media players
1,940.00
Spare Breakout Cable sets for Decklink SD & HD (various versions - please enquire)
~100.00
Full systems available - please enquire for details
phone or email


We have an Atem Television Studio vision mixer on demo at our Manchester base