BirdDog Studio/Mini NDI interface boxes

.BirdDog is an Australian company based out of Melbourne, with what they describe as "a team of innovative and slightly quirky engineers". Their first project was a major challenge - to create an NDI codec in hardware.
BirdDog at NAB 2018 - talking about the BirdDog Mini and the Audio Comms app.
BirdDog Studio & BirdDog Mini enable your existing cameras to be included into a new IP workflow for your live productions. Once you convert your HDMI or SDI signal to IP (HDMI-only on the Mini), the possibilities of live productions are magnified. Any network connection can become a live video input into an NDI-enabled switcher.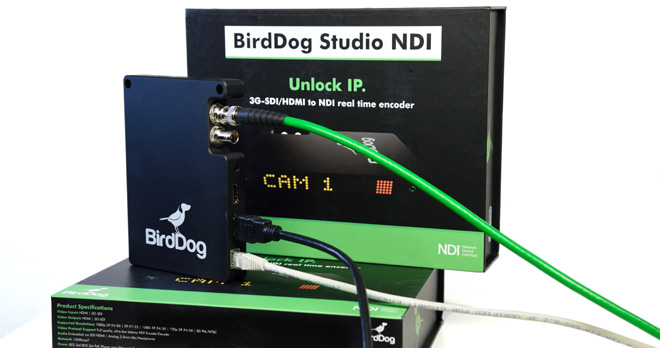 NDI made simple
Convert your baseband digital video (SDI/HDMI) to full-quality NDI and take full advantage of flexible IP networks. No need to run long SDI cables or purchase expensive video routers, simply access your live video in real time anywhere on your network.
Dual Color Tally
BirdDog does Tally the "right way". BirdDog Studio can display Tally onboard and externally via Tally out. Due to our superior NDI integration both Program and Preview tally indicators are provided.
Simply set the display to be full screen Tally or split screen to show both program and preview.

Power from anywhere
All bases are covered when it comes to power. BirdDog Studio can accept power input from the Ethernet cable via PoE technology. Donít have a PoE network infrastructure? No problem, simply power via DC or V/Gold-mount battery plate optional accessories with power pass-through (coming soon).
Central fleet control
Control and configure multiple BirdDog Studio devices through the admin panel which is accessible via a web browser on both mobile devices and desktop.
Monitor loop-out/format converter
SDI and HDMI outputs are always live allowing you to convert from SDI to HDMI and vice versa. Connect a monitor to BirdDog Studio's outputs or simply use them to loop out to other gear.
Software upgradeable
As additional features are developed they will be released at no cost. To make updates easy a simple site deployment wizard will ensure all BirdDog Studios in your facility are updated, and are all running the same software version.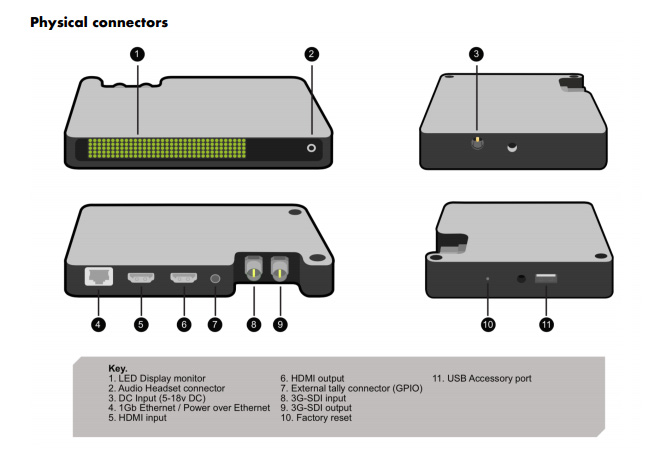 BirdDog Studio specs:
Note - BirdDog Mini is HDMI-only in a smaller case size
Video Inputs
HDMI & HD-SDI
Video Outputs
HDMI & HD-SDI (with cross conversion from either input)
Supported Resolutions
1080p 29.97/25/59.94/50, 1080i 59.94/50,
720p 59.94/50, SD PAL/NTSC
Video Protocol Support
NDI Realtime Encoding (full quality, not NDI-HX)
Audio
Embedded via SDI/HDMI plus Headset connector
Network
1000baseT (gigabit)
Power
802.3 PoE Compliant, 2-pin 8-24v DC with D-Tap adapter
External Tally
3.5mm GPIO 2 position (Program/Preview)
Display
5x35 LED Display, Selectable modes (Info, Tally, Multi-Tally)
Configuration
Web Based (Mobile and Desktop compatible)
Physical Dimensions
105mm (W) x 150mm (H) x 19.5mm (D)
Weight
340g
Note - all prices quoted on this site are UK pounds - ex VAT & delivery 2.5% surcharge on Credit & Debit Card payments
BirdDog hardware
Price
BDSTUM01 - BirdDog Studio - NDI encoder/decoder with Tally, PoE & SDI/HDMI inputs, includes universal AC adapter, D-Tap to 6mm DC cable and quickstart guide. Includes Comms Lite s/w
609.00
BDMINIHDMI - BirdDog Mini - smaller, HDMI-only version of the BirdDog Studio, inc PSU. Includes Comms Lite s/w
434.00
BDCOMMS - BirdDog Comms (full version) - NDI software for controlling comms/talkback between BirdDog devices
N/A (413.00)
BDCENTRAL - BirdDog Central (full version) - NDI software for controlling distribution/routing between BirdDog devices
830.00
BDP100B/W - BirdDog Eyes P100 - 1080P full-NDI PTZ camera with SDI/ethernet (B=Black, W=White)
1,340.00
pre-order
BDP200B/W - BirdDog Eyes P200 - 1080P full-NDI PTZ camera with Sony sensor & HDMI/SDI/ethernet (B=Black, W=White)
2,236.00

BDA200 - BirdDog Eyes A200 - IP67 weatherproof 1080P full-NDI PTZ camera with Sony sensor & HDMI/SDI/ethernet (white-only) No PSU included
4,027.00
pre-order
BDA300 - BirdDog Eyes A300 - IP67 extreme weatherproof 1080P full-NDI PTZ camera with Sony sensor & HDMI/SDI/ethernet (white-only) No PSU included
5,819.00
pre-order
BD-A-PP80 - POE injector for A200/300 - 80W POE power supply for BDA200/300 cameras
700.00

BD-A-P24-5 - PSU for A200/300 - 24V 5A power supply for BDA200/300 cameras, when not using POE
167.00

BDPTZKEY - BirdDog PTZ Keyboard Controller - with NDI, VISCA, RS-232 & 422, BirdDog comms compatible
1,309.00
pre-order
BirdDog Cloud
Subscription
BDCLOUDCORE - BirdDog Cloud Endpoint Core (monthly) - NDI remote connection software including Tally, Comms, Video, Audio and PTZ control over an SRT link.
63.00/mth
BDCLOUDMULTI - BirdDog Cloud Endpoint Multi (monthly) - Create single streams and send point to point at multiple locations, or multiple streams in sync all using SRT. Requires BDCLOUDCORE
63.00/mth
BDCLOUDMULTIVIEW - BirdDog Cloud Multiview (monthly) - A scalable NDI Multiviewer. Requires BDCLOUDCORE.
63.00/mth
BDCLOUDWEBTRTC - BirdDog Cloud WebRTC (monthly) - Convert NDI to WebRTC with very low latency. Requires BDCLOUDCORE.
63.00/mth
BDCLOUDALPHA - BirdDog Cloud Alpha (monthly) - Adds Alpha Channel support for sending graphics. Requires BDCLOUDCORE.
42.00/mth
BDCLOUDRECORD - BirdDog Cloud Record (monthly) - Adds recording for both the source and destination. Requires BDCLOUDCORE.
42.00/mth
Info on other capture devices and accessories for vMix here