Avid Media Composer
| | | |
| --- | --- | --- |
| Avid are a world leader in desktop NLE video editing technology. Their Media Composer® product line is an industry standard solution for anyone looking for professional-quality editing and creative tools in a PC based NLE system. It's fully compatible with Avid's high end systems including Symphony and NewsCutter. Powerful video and audio editing toolsets, professional titling and graphics, extensive import and export capabilities, more than 100 real-time effects and multiple simultaneous streams make Avid Media Composer® the performance choice in editing software for DV upwards. | | |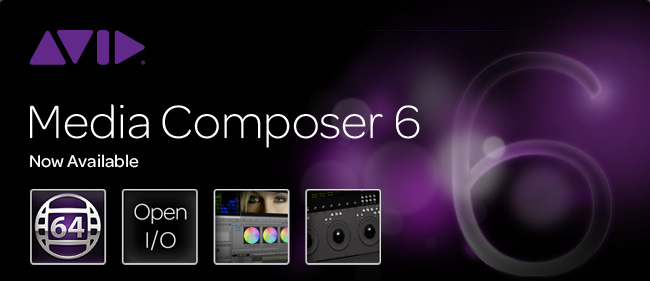 Avid Media Composer goes 64-bit in version 6

Media Composer 6 is now a native 64-bit application, meaning it can use all the memory that your system has installed when running under Windows 7 Pro 64, or Mac OS X Lion 64. Experience smoother playback, faster rendering performance, better handling with large bins and say goodbye to the old memory limitations of the 32-bit operating systems.

New hardware I/O options
What's new in Media Composer 6

Features added in v6

Get full native ProRes support on Mac (encode and decode) and Windows (decode only) for easy integration into any ProRes workflow

Manage and edit stereoscopic 3D projects with a comprehensive set of editorial tools and workflows

Create 5.1 and 7.1 surround mixes directly within Media Composer, or import from Pro Tools (watch the video)

Work more creatively with audio with new mixer features and support for additional Pro Tools hardware

Get better performance and speed to handle complex editing, now that Media Composer is a 64-bit app (Still need 32-bit?

Learn more about Media Composer 5.5

)

Work with the Avid or third-party hardware you want—with Avid Open I/O, third-party manufacturers can now make their I/O hardware work with Media Composer

Work more easily and efficiently—but not differently—with the sleek and sexy new user interface (

watch the video

)

Get direct access to user guides and documentation from within the interface

Take hands-on control of all colour correction and grading functions with Artist Color (

watch the video

)

Instantly access, screen, and edit AVCHD clips and RED EPIC footage through AMA

Accelerate your RGB 4:4:4 workflow with Avid DNxHD 444, which delivers exceptional image quality in a low bandwidth format

Access additional ancillary data when working with XDCAM HD material

Work more easily with animated effects with many keyframe editor improvements

Get Avid FX (Boris RED), Avid DVD, and Sorenson Squeeze in all versions of the software

Manage multiple licenses more easily with unified licensing

Conveniently purchase stock footage, plug-ins, and more through the Avid Marketplace (watch the video)


ProTools 9 - What's new?

Work the way users want - Get the flexibility of using Pro Tools 9 with a favourite Avid audio interface or third-party Core Audio or ASIO-compatible interface - or use Pro Tools 9 completely standalone for easy on-the-go creation.

Create bigger, better mixes - Develop larger, more complex projects, with up to 96 or 192* simultaneous audio tracks, 128 instrument tracks, 512 MIDI tracks, 256 internal busses, and 160 aux tracks.

Be more creative with coveted professional tools - Work efficiently and get the best sonic results with Automatic Delay Compensation, multi-track Beat Detective, full Import Session Data dialogue, DigiBase Pro, and other separately priced add-ons - now standard.

Collaborate with others more easily - Team up with other creators, editors and mixers easily, exchanging projects created in other audio and video software with Pro Tools and vice-versa with built-in OMF/AAF/MXF file interchange support.


Pro Tools 9 software redefines the world's most popular, most advanced music and audio production platform with a completely re-architected, open version of Pro Tools software that delivers a host of new features, including the ability to run standalone, on third-party audio interfaces, or on Avid hardware.

Pro Tools 9 now includes an enhanced feature set including Automatic Delay Compensation, a higher track-count support, EUCON support, and other pro features included as standard. Users can even open their workflow to projects created in other audio and video software - and to the entire Avid Artist Series and Pro Series (formerly Euphonix) console/ controller line.

Other NLE software & systems from ZEN
Adobe CS5.5 - PremierePro/Matrox RTX - AxioLE

Note - all prices quoted on this site are UK pounds - ex VAT & delivery - 2.5% surcharge on Credit & Company Debit Card payments
| | |
| --- | --- |
| ITEM | PRICE (ex VAT) |
| Avid Media Composer v6.5 (s/w licencing) reduced price prior to v7 - includes free upgrade | 710.00 |
| Avid Media Composer v6.5 Dongle version reduced price prior to v7 - includes free upgrade | 930.00 |
| Avid Media Composer Expert Support | 380.00 |
| Avid Media Composer Expert Plus Support | 690.00 |
| Avid Media Composer Elite Support | 890.00 |
| Avid ProTools 11 audio editing software | 440.00 |
| Script Sync option for MC v6 | 690.00 |
| Phrase Find option for MC v6 | 350.00 |
| Script Sync & Phrase Find option bundle for MC v6 | 920.00 |
| Upgrade Avid Media Composer v6.0 to v6.5 (inc docs & 3rd party apps) | 215.00 |
| Avid Media Composer v6.5 upgrade for Xpress DV/Pro HD & pre-v6.0 Media Composer | 280.00 |
| Avid Mojo SDI for MC & XpressPro (v5.5+), Digital Accelerator with SDI & digital audio | ask |
| Avid-ready HP Z400 workstation, W3550 CPU, 6GB RAM, 5000GB+1TB HD, DVD-RW, Quadro FX3800 graphics, Windows 7 Pro 64 bit O/S | 1,735.00 |
| DV1394 I/O Card (Avid approved 1394 card) & Firewire Cable | 40.00 |
| DataVideo Analogue video to DV bi-directional converter box | from 170.00 |
| Avid Keyboard - High quality coloured keyboard with Avid shortcuts - PC Version only (used keyboards) | 90.00 |
| Printed manuals for Avid Xpress - User's Guide & FX Guide (to special order) | each - 17.00 |
| Full range of eSATA/USB2 external drives available - ask for details | Various |
| AVID ACADEMIC PRICING - for academic institutions (official orders) | |
| Media Composer 6.5 Academic | 182.00 |
| Media Composer 6.5 Academic with Dongle option | 390.00 |
| Media Composer ExpertPlus Academic Support | 68.00 |
| Full systems available - please enquire for details | Contact info |