CineForm 3D Video Editing solutions
CineForm has been producing digital workflow products since 2001, specialising in codecs for high-end video and digital film production, with products that are compatible with both PCs and Macs, like their pioneering 12-bit RGB compression format, CineForm-444.


In 2009 CineForm introduced its Neo3D software which integrates full-featured 3D editing with 2D-only NLEs such as Adobe Premiere Pro and Apple Final Cut Pro. Neo3D won three Best of Show awards at NAB 2009, followed by two more at NAB 2010.
3D video - what are we dealing with?

| | | |
| --- | --- | --- |
| 3D video, or more correctly stereoscopic video, uses two streams of video images taken from slightly different perspectives, in order to simulate what would be seen by each of our eyes, in much the same way that stereo audio exploits the differences between what our two ears would hear. Of course stereo audio was around long before computers were used to edit it, so digital formats for stereo audio are well established on all computer platforms and widely supported. Non-stereo (mono) audio recording devices are pretty few and far between these days. Not so for stereo video. | | Whilst single-body, twin-lens 3D video cameras have started to appear, much stereo 3D video is shot with a pair of cameras mounted on a "stereo rig" to position them with appropriate spatial separation. In either case they generate two separate video files (for the left and right eyes), which in the case of a twin camera rig might not have even started and stopped at the same time. So not only is there the need to be able to view the recording and see the 3D effect, but there's a fundamental workflow problem in finding a convenient way to handle the source video files. |




Editing 3D video with CineForm Neo - how does it work?

1) They allow the creation of "multiplexed" stereo video files using one of CineForm's high-quality compression codecs, combining the left and right video streams into a single video file that is far more convenient to handle. This is the first task after the footage is transferred to the computer, before editing can start. Quality is maintained by the codec using a high bit-rate, although there's the choice of a range of settings.


Phone for more info
What you'll need to buy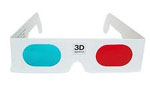 Secondly, It depends on what sort of monitoring you'd like. If you only need anaglyph-style viewing, then a simple set of cardboard glasses with coloured film will suffice. Although the plastic versions may look more robust,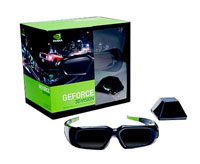 the coloured film is often optically superior to the coloured plastic and will result in a better viewing experience.
The next option up from that is to get a 3D TV which will accept and correctly display "side-by-side" or "over-under" stereo pictures as full-screen 3D.
For the best viewing experience from a PC, Nvidia's 3D Vision active shutter glasses allow viewing of full-resolution HD video on a high-refresh-rate 3D TV or monitor running at 100 or 120Hz. The glasses are synchronised with the 3D output via an infra-red emitter which in turn is driven by a compatible Nvidia Quadro series graphics card (eg Quadro FX3800).
3D Monitoring in
Premiere Pro CS5


Unless you're buying a full size 3D TV, the best way to view your stereo 3D video during editing is by using active shutter glasses and a desktop LCD display with a high refresh rate. "3D-ready" monitors can run at 100 & 120 Hz, twice the normal frame/field rate of PAL/NTSC video.

3D editing upgrade package for Premiere

If you already have a fairly recent Adobe CS5.x system with an i7 CPU, or are thinking of buying one, the extras you'll need for full-featured 3D (including CineForm Neo, Quadro FX3800, Nvidia 3D Vision Pro kit & 3D LCD Monitor) will add around 1000 to 1200 to the cost.

Let us give you a quote for upgrading your particular system.

Tech Notes - The system requirements for running Neo & Neo3D and Premiere Pro CS5.x are slightly different, such that the minimum spec for CineForm's software is not compatible with the requirements for Adobe CS5. In addition, there are two flavours of Nvidia's 3D Vision software control, only one of which works with Neo and is based on the OpenGL functionality only found in the Quadro cards. If extra monitors are required, beyond the two that can be connected to a single card, an additional Quadro card should be used, as a GeForce card will probably crash the system when trying to run Premiere.

ZEN i7 PC base unit

ZEN Stereo 3D video editing PC systems

We can supply fully configured PCs for 3D video editing based around Adobe Premiere Pro CS5.5 in a twin-monitor configuration using Nvidia 3D Vision active shutter glasses for full-screen stereo 3D monitoring on the 2nd display.

Note - all prices quoted on this site are UK pounds - ex VAT & delivery
2.5% surcharge on Credit & Company Debit Card payments
ITEM
PRICE
CineForm Neo software licence
185.00
CineForm Neo3D software licence
620.00
Nvidia 3D Vision kit - active shutter glasses and IR emitter
95.00
Nvidia 3D Vision - additional active shutter glasses
73.00
Nvidia Quadro FX3800 1GB graphics card with OpenGL 3D support
including 3D Vision Pro cable to connect to 3D Vision emitter
645.00
Nvidia Quadro FX4800 1.5GB graphics card with OpenGL 3D support
1,230.00
LG 23" LCD 3D-capable Monitor - 120Hz refresh rate, DVI i/p
160.00
LG 23" LED-backlit LCD 3D-capable Monitor - 120Hz refresh rate
255.00
Benq 23" LED-backlit 3D-capable Monitor - 120Hz, HDMI, height adjustable
250.00
Adobe Premiere Pro CS5.5 upgrade from all earlier versions
250.00
Full 3D video editing systems available - please ask for a quote
phone or email

I've been a regular contributor to user groups and technical forums for the last 20 years or so, and have written hundreds of posts on a whole range of computer, audio & video production topics. Trouble is, I never kept copies of any of them, which is why I've now created a web page for some of them.
Martin's latest post - 3D Stereoscopic Video - a view from the sidelines
Let me start by saying that I've not exactly been "wowed" by the whole 3D bandwagon, but I am warming to it... Read More